TOPIK (Test of proficiency in Korean)
- 84th Edition in Bucharest –
15th of October 2022
Registration: 23 May – 04 June 2022
We are waiting for your messages on our email address: [email protected]
1. Objectives
To promote and set a direction for learning Korean language for non-native Korean speakers and overseas Koreans.
To measure and evaluate the Korean language skills of the participants, to utilize the results for admission to Korean universities and for job-seeking
2. Participants
People who don't have Korean as a native language.
3. Date and time
15th of October 2022, Saturday, 09:10~16:20
TOPIK I (beginners, level 1-2) : 09:10~11:20
TOPIK II (Intermediate-Advanced, level 3-6) : 12:20~16:20
The access will be made with 30 minutes before the starting hour of the exam.
LEVEL

PERIOD

DOMAIN

ENTRY TIME


STARTING TIME


ENDING TIME


DURATION

TOPIK Ⅰ

1

LISTENING

READING

09:10

09:40

11:20

100

TOPIK Ⅱ

1

LISTENING

WRITING

12:20

12:50

14:40

110

2

READING

15:00

15:10

16:20

70
4. Place of Exam:

Romanian – American University (Expoziției Bd. no. 1B, District 1, Bucharest, Romania)
5. Registration
Period of registration: 23 May – 04 June 2022
We are waiting for your messages on our email address: [email protected]
Mandatory documents: ID card/Passport, 2 photos (3cmx4cm), proof of payment of the registration fee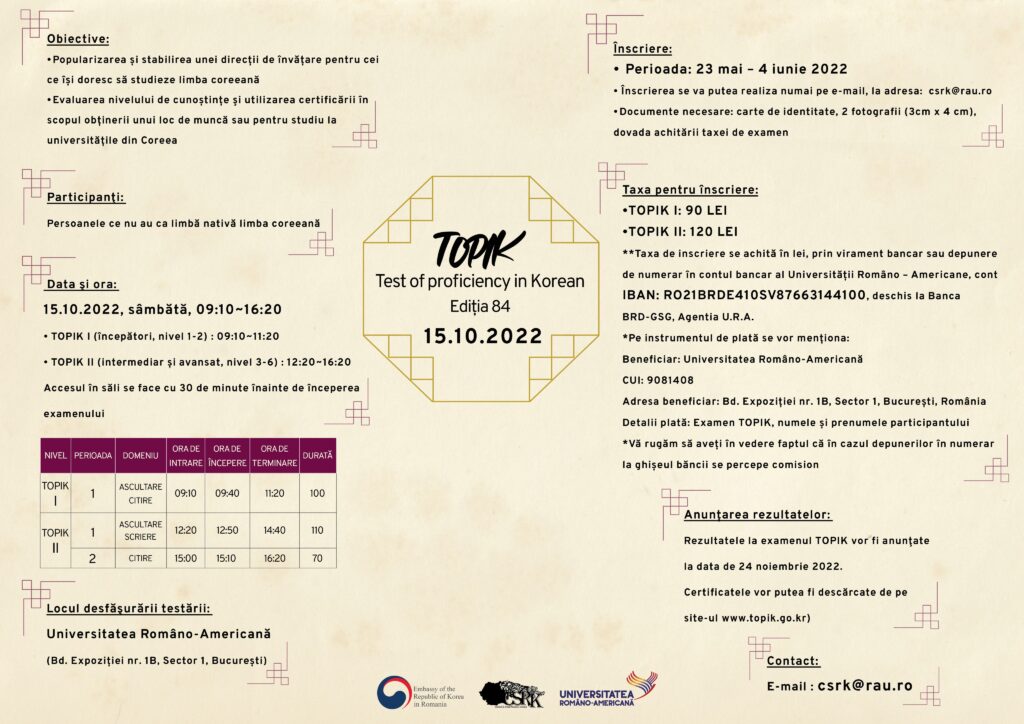 6. Registration fee
TOPIK I : 90 RON
TOPIK II : 120 RON
*The registration fee is payable in Romanian lei and can be paid by bank transfer or by cash deposit to Romanian – American University's bank account: RO21BRDE410SV87663144100, open at BRD-GSG, U.R.A. Agency.
*The following information must be mentioned on the payment instrument:
Beneficiary: Romanian-American University
CUI Beneficiary/Fiscal code: 9081408
Address of the beneficiary: 1B Expoziţiei Bd., district 1, Bucharest, Romania
Reason for payment: TOPIK exam, -name and surname of the participant-
*Please take into consideration the fact that in case of a cash deposit made at the bank's cash desk, a commission will be charged by the bank. Therefore, you should pay: the examination fee and the commission for the bank.
IMPORTANT:
Please keep the proof of payment received from the bank as it will be requested when you will register for the exam.
7.TEST RESULT ANNOUNCEMENT:
Test results will be announced after 24th of November 2022 (on the official TOPIK website: www.topik.go.kr)
8. For Questions/Support: